Premium Pack Frames – Wildland Fire Suppression Applications
Bull Pacs are dirty tough… Able to handle the heaviest loads under the most brutal conditions!
For decades, Wildland firefighters have had to take the fight to the fire. In some cases, this is as simple as backing up to a water source, off-loading the pumps and running a bunch of fire hose. However, Mother Nature often has a cruel sense of humor and crews frequently find themselves fighting fires under less than optimal conditions. Whether plowing 300 yards through a slash-covered clear cut or slipping a half mile down some tank-trapped, overgrown road, Bull Pacs increase a crew's efficiency, effectiveness and safety in carrying firefighting gear and equipment to available water sources.
Historically, there has never been a great way to transport firefighting equipment such as pumps, hoses and gas, off the beaten path. More often than not, multiple trips with arms chucked full of gear have made equipment set-up slow, awkward and tedious. Bull Pacs not only speed up the equipment staging process, but are built with your back's comfort and safety in mind. They provide a safe and sturdy platform to haul heavy loads, freeing up one's hands to safely traverse steep, uneven terrain. Based on decades of packing heavy loads all around the world, Bull Pacs are the one piece of equipment that you don't ever have to worry about! And Bull Pacs have an unlimited lifetime guarantee!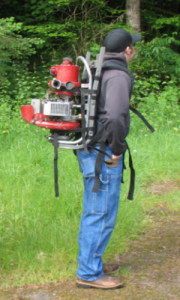 The Mark 3 pump is commonly in the line-up of firefighting equipment used throughout the western states. While the Mark 3 has plenty of horsepower and can move lots of water, it weighs in at 55 pounds, making it awkward to pack very far from the truck… and a back injury just waiting to happen.
Bull Pacs are custom made for the Mark 3:
The vertical frame around the pump rides perfectly on the 90 degree shelf of the pack.
The horizontal frame of the pump rides just inside of the main frame of the pack
The rubber feet of the pump dropping perfectly in between the cross-braces
Two compression straps quickly secure the pump to the Bull Pac for steady, hands-free transport wherever needed
Quick-release buckles make removal a snap and you're ready to go grab another load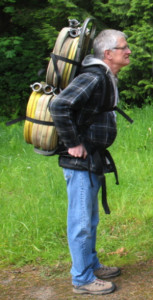 While there are a number of different sizes and configurations of fire hose, one thing remains the same… they're an awkward load to lug very far. In the adjacent photo, we have added the extension to the Bull Pac frame.
Easily lash up to ten rolls of fire hose, side by side (two stacks of five)
The Bull Pac can easily handle up to 1,000 feet of rolled hose, greatly reducing the number of trips necessary
Dual-locking compression straps secure the load for quick and easy transport and hose drop off
Removal of hoses is just as quick and simple
Remaining rolls and straps can be quickly readjusted to ensure the load stays secure and balanced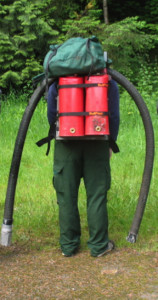 It doesn't matter what type of power equipment you're running, you have to pack gas. While a five gallon can of gas doesn't seem like much, it quickly becomes an awkward load if going very far, especially if trying to carry only one. For pure balancing purposes, you typically end up carrying a can in each hand, which quickly turns your arms to Jell-O… not an overly efficient or comfortable way to transport gas cross-country.
Two five-gallon gas cans are strapped to the Bull Pac with quick-release, adjustable compression straps
Cargo shelf supports the cans, while the straps keep them from sliding around and bouncing off
Gas cans also provide a good base for not only the intake hose, but also the pump/hose fitting bag
In this case, the straps of the fitting bag are hooked over the top of the pack frame, but can just as easily be strapped down themselves to ensure they stay securely attached
For actual transport, the intake hose can be looped up and tied to reduce dragging and snagging during transport.
The Toughest, Most Durable Frame Available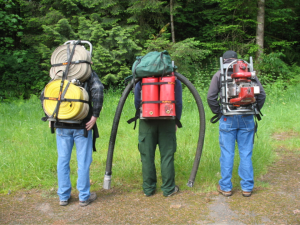 Frame
Hand crafted from 6063 T52 Aluminum, .090 wall thickness, round cornered, square tubing.  Frame tubing is hydraulic bent to form a 90 degree cargo shelf, free of welds or any joints, supported/strengthened by three contoured Aluminum flat-bar, cross members, w/ stainless steel lashing hooks.  All structural supports/cross members are welded on both sides.  Raw frames are then prepped and powder-coated with a high strength finish to ensure years of worry-free use.
Suspension
The Most Comfortable Suspension Available
1", 1.5" and 2" Heavy Poly-Pro Webbing, doubled in load-bearing applications.
420 Denier Nylon Pack Cloth.
1"X3" Hi-Density, Closed-Cell Foam Shoulder Pads w/ Sternum Straps.
Full back pad and waist belt w/ kidney support.
Quick detach, non-slip buckles for quick and secure adjustments.
Finish
Powder Coat:  Olive Drab Matte
Dimension/Weight
Bull Pac – 14.5" Wide X 26" High, w/ 8" Rigid, Integral Cargo Shelf (5.4 lbs.)
Big Bull – 16.5" Wide X 26" High, w/ 8" Rigid, Integral Cargo Shelf (5.7 lbs.)
Replacement Parts
Shoulder straps, waist belt and back pads are all fully independent and replaceable. If any components get cut, melted, ripped or accidentally soaked with gas, replacement parts are readily available and can be fully replaced in five minutes… never have a non-functional pack laying around the shop again that you can't find parts for!
If we can answer any questions or provide additional information or quotes, feel free to contact us.